To start… create an Item. Manage > Items > +New Item
Once your done creating an Item you can set it up to sell online! Visit the Details and Web Setup tab.
In the Details tab for that item you can add a picture as well as a short and long description.
Manage > Items > Select item > Web Setup tab.
Once you've configured all your settings you can copy and paste your Direct Link into your website or post on your social media platform for instant sales.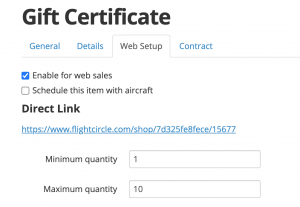 The Direct Link will take your users to a page to purchase. If an aircraft is tied to your WebSale Item the customer will be able to fully select and schedule.  It creates the user, collects and posts the payment, and notifies them and you via email.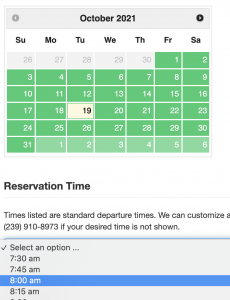 You must have Credit Card Processing set up before you can utilize the WebSales feature. 
Select which instructors to use for web sales 
Go to Manage > Items > Select an item > Web Setup tab.  Near the bottom, note the option to choose Instructors.
-By default, ALL will be used, if none specified. 
How to sell Discovery Flights: 
Do you want to charge a flat fee for Discovery Flights? First, make sure you have a $0 rate for aircraft and instructors. Second, Make sure your item is created.
When you go to check-in the flight add the flight time and the $0 rate. On the second page, add your Discovery Flight item. Make sure to also add the $0 rate for the instructor. Their time will be accounted for.
Want to add coupon codes? Use Groupon, Amazon Local, Living Social, randomly generated (for your gift certificates), etc. Use for third-party bookings such as hotel group, sales agent, or referral tracking.
Manage > Items > Web Setup Tab > +New Code. 
With flexible options, you can set them to skip the entire payment altogether, require a password, one-time use or on-going, etc.
Post Purchase Message to Display. Manage > Items > Web Setup Tab. This message will show to the customer right after they purchase their websale as well as in their email they receive.
Contact us to setup an Example Discovery Flight in your account.