A Users Ledger shows all flight history, charges, and payments. In a Users Ledger you can:
Add Adjustments (debits or credits) you can manage your Adjustments in Manage > Adjustments.
Add Charges where you can select specific Items and if they are recurring or not. To create an Item go to Manage > Items. For more information on Items click here.
Edit a flight that has been checked in. Find the flight then to the far right Options > Edit. You can change the hobbs and tach time here (if there was a mistake), the day, flight instructor, pilot, etc. For more info on adjusting Tach and Hobbs time click here.
Refund a payment – this can be any form of payment. The best way to refund a payment other than credit card is to go to Payment and in the amount enter a negative amount. Example, -100.00. these "reimbursements" will reflect in your Payments Received Reports. To refund a credit card, find the entry on the ledger Options > Refund. The credit card refund will include the reference date of the original transaction.
Make a payment – You can select different payment methods. If you take credit cards you can store the users credit card info and set up Auto Pay.
Next Reservation: 
View the next reservation right above balance in the Ledger.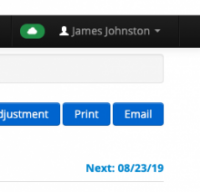 Select the Next reservation to view Future, Passed, and Cancelled Reservations for that specific user.