A Users Ledger shows all flight history, charges, and payments. In a Users Ledger you can:
Add Adjustments (debits or credits) you can manage your Adjustments in Manage > Adjustments.
Add Charges where you can select specific Items and if they are recurring or not. To create an Item go to Manage > Items. For more information on Items click here.
Edit a flight that has been checked in.
 Find the flight (with meter times) to the far right select Options > Edit. You can change the hobbs and tach time here (if there was a mistake). You can also change the day, pilot and rate if needed. If you change the pilots name the flight information will transfer to the new pilots ledger. For more info on adjusting Tach and Hobbs time click here.
Change the instructor on ground and flight instruction. To the right of the ledger entry select Options > Edit > Change Instructors name. If ground and flight logged on same checkin, both will update. This will update the Instructors Report accordingly. You can also see the history log on the checked in reservation. Just go to the schedule, edit the flight, and select the History Tab to see all changes made.
Refund a payment – this can be any form of payment. The best way to refund a payment other than credit card is to go to Payment and in the amount enter a negative amount. Example, -100.00. these "reimbursements" will reflect in your Payments Received Reports. To refund a credit card, find the entry on the ledger Options > Refund. The credit card refund will include the reference date of the original transaction.
Make a payment – You can select different payment methods. If you take credit cards you can store the users credit card info and set up Auto Pay.
For Ledger and billing emails: credit rows (payments or credit adjustments) show in green.
To send an Invoice via Email find the transaction in the ledger > Select Options > Receipt. The receipt will show all transaction information as well as an Invoice Number. In the upper right corner you will see Email or Print to select.
Next Reservation: 
View the next reservation right above balance in the Ledger.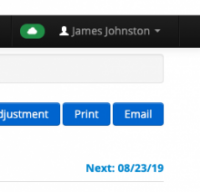 Select the Next reservation to view Future, Passed, and Cancelled Reservations for that specific user.