Aircraft Profile Page 
Manage > Aircraft > Select Aircraft.
Aircraft Report 
Share aircraft report with: Select users. This way these select users will be able to view aircraft specific reports and not all aircraft reports, if you have more than one.
You can also select: Send Maintenance Reminders and Squawks to these users. This way they will get aircraft specific Maintenance Reminds and Squawks, if you have more than one aircraft.

If you only want to use one meter for billing check the box that reads Only use one meter for billing and maintenance. Then set the hobbs and tach to the same value. You can change the values in the Hours Log for the aircraft.
You now have the option to add a second engine as well as Tach 2 and TTAF.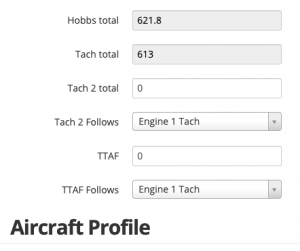 Billing Follows: By default, we bill off Hobbs. To bill off another meter use the Billing Follows feature.