Security options in Groups: 
In each group you have the option to add recurring charges.
If Maintenance is set to YES, your user will be able to make a Maintenance reservation and have access to the Maintenance Download and Squawks Report.
Reports Available allows you to give (or remove) access to specific reports. For example, you can limit certain financial reports by removing those for Administrators.
You can allow specific groups to manage users and groups. If you give them access to manage users they will be able to add new users and approve users on the pending list. They will also be able to view and manage a users profile. "Manage Users" should be able to edit a user's profile, including the Custom Fields.  By default, this would mean admins and instructors.
You can enable select groups to send messages within Flight Circle. For more information on sending messages click here!
In Groups, you can select User Files – No or Full Access. For instance, an instructor by default has access to Manage > Users where they can see Files for each user. In the Instructors Group you can select User Files – No to prevent them from seeing the user's files while still granting them access to Manage > Users. Click here to learn more about user's Files.
To create a Group simply go to Manage > Groups.
Control which group can issue credit card refunds. 
The super administrator will ALWAYS be able to issue a credit card refund even if the administrator group is set to No. Keep in mind, the administrators group automatically defaults to Yes.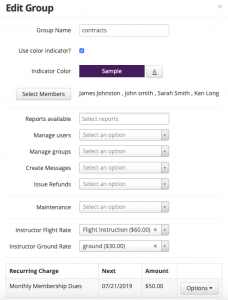 By the users name/photo you will see a dropdown, you can use this to see what group(s) your user is in. You can also use this dropdown to add him/her to other groups.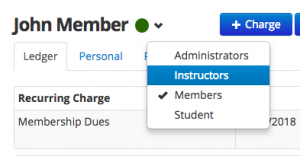 Super admin will always be able to access the Subscription tab. If you have admin that need to access that tab make sure to add them to the Administrators Group. Once they are added they will then have access.
In Manage > Users > Groups you will see all your Groups. It shows how many users in a Group were approved vs deleted.  The users in parentheses are approved.  The solution would be to go to the Archived user list and scan for any users still in Groups. You can check to see if you don't want them in there anymore.