Note: Before you begin, ensure that you have your CoPilot equipment order email (titled "Your CardPointe Terminal Order Has Shipped!") handy. You'll need the Registration Code included in the email to register the device.
Unbox your device and connect the power cable to the charging cradle.
Place the Clover Flex on the charging cradle.
Press and hold the power button until the Clover logo displays on the screen. The Clover Flex powers on and displays the Welcome screen.
Select a language and press Set Language.
On the Network screen, do the following to configure the device's network connection:

To connect to a Wi-Fi network, tap Configure next to the Wi-Fi option, and select your network. Note: PCI compliance standards require the device to connect to a secure, password protected network.
To connect to a LTE network, tap Configure next to Mobile (SIM card). The device briefly displays "Successfully Connected to Server" once the network configuration is complete. The device then begins to download the Bolt App and other required components.Once complete, the Bolt App launches and displays the Terminal Registration screen.

On the order confirmation email with subject "Your CardPointe Terminal Order Has Shipped!", there is a Registration Code. Follow those instructions to activate your terminal.

If you don't have the Registration Code, you can enter the HSN number in the Flight Circle setup to retrieve it.

The Terminal should show Status: Bolted (connected)
In Flight Circle
Go to Manage > General Settings > Apps > tap Card Connect
If you activated your terminal in previous steps, it should automatically show here now.  Verify it shows "Online" and you're done!
If you haven't activated it yet, tap Add Terminal. Enter the HSN number to search for the Registration Code to activate with.  This number can be found on the included paperwork, side of the box, or via the Admin Panel on the terminal.
In the App tab, while editing the Terminal, you can select which Groups have access to configuration.
In General Settings > Payment Types > You will see Terminal. You can configure who is allowed to use it as a Payment Type.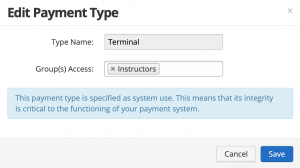 Using Your Terminal
Tap the large green button "Customer Mode" on the terminal screen to start using.  You can optionally lock the terminal in this mode to provide restricted access to the end-user.  The default PIN is 123456.
Your terminal works everywhere cards are accepted in Flight Circle: during checkin, payment on a user's account, or user self payment (if enabled). During checkin, a payment method option is "Terminal", and shows 1 or more terminals to select as the source.