Accept payments via tap, dip, swipe, Apple Pay, or manual entry using one of the Clover or Ingenico terminals below.  Choose from a variety of devices with different features to meet your needs.
These terminals connect directly to the Internet.  They do not connect to a computer or mobile device via USB or Bluetooth.  This means you could use the same device from multiple workstations or mobile devices.  If wireless or cellular is available, they can even be operated out of the office and on the go.
Accept all card-present payment methods, including EMV (chip), magnetic-stripe, and NFC (contactless).
Accept Apple Pay.
Accept card-not-present payments by manually entering card data.
Minimize your scope of PCI compliance with point-to-point encryption. Encrypted data traverses the wireless network using a secured connection (HTTPS over TLS 1.2).
Point-to-point encryption solutions for reduced PCI-DSS scope and accept EMV transactions.
There is no additional monthly or transaction cost, but there is the one time purchase or monthly rental option.
Clover Flex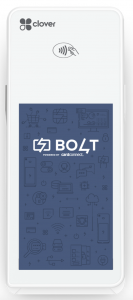 Device Features and Benefits:
Stay connected on the go with support for Wi-Fi and LTE (cellular).
Provide receipts using the convenient built-in printer.
Bolt on Clover 2 Mini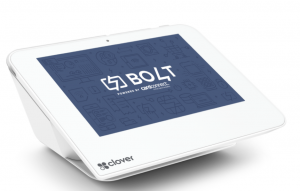 Device Features and Benefits:
The Clover Mini (2nd Generation) supports WiFi, Ethernet, and LTE.
Provide receipts using the convenient built-in printer.
Enhance the customer experience with Clover accessories, like the Clover Mini Swivel stand.
Ingenico iPP 320 or 350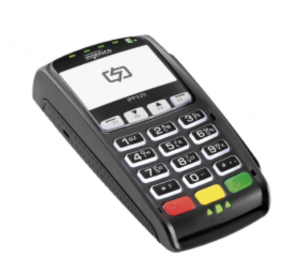 Device Features and Benefits:
Connects via Ethernet (wired Internet connection)

Customer-facing / more stationary use

The 350 is the same, but has a color screen
Ingenico iSC Touch 250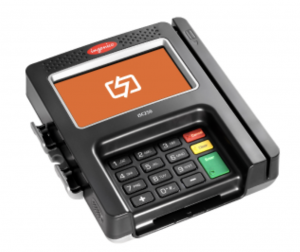 Device Features and Benefits:
By integrating the iSC Touch 250 with your Bolt Terminal solution, you can:
Customer-facing / more stationary use
Color touchscreen
Signature capture (signature capture not yet supported)
Connects via Ethernet (wired Internet connection)
Ingeninco iSMP4
Device Features and Benefits:
By integrating the iSMP4 with your Bolt P2PE solution, you can:
Compact and lightweight
Connects via Wi-Fi
More Information…