Auto Pay lets Organizations and users set up daily or automatic monthly recurring credit card and/or ACH payments to their account. It can be a fixed amount or a full balance.
Note: If Auto Pay is set to a fixed amount, whether it be daily or monthly, it will run regardless of the balance/credit on the account.
To add Auto Pay go to Manage > Users > (Select a user) > Payment button > Auto Pay tab. 
A user can access Auto Pay from their account via their Name menu at the top right > My Account > Auto Pay tab.
Example uses for Auto Pay are: 
Membership Dues: Combined with recurring dues to automatically pay.

Pay your monthly bill: Set to pay full balance, on the 23rd of every month.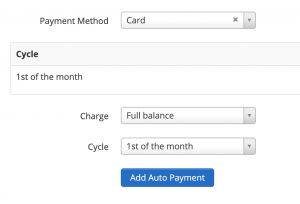 A credit card or ACH must be stored on file/set up for Auto Pay to work.  If multiple credit cards existing, the primary one will be used. Click here to learn more about ACH. 
If a credit card declines via Auto Pay, it will be marked as inactive. You can select the expiration date to change it. The admin and user can both reactivate the card. Options > Reactivate.
Reactivate previously disabled credit card for declining, if recently used successfully. This restores Auto Pay automatically. 
Cards declining past 6 months will automatically be deleted from the system
More…
Charges will run between 04:00-05:00 ET.  The user will get a success email. You will see the payments on the Payments Received report, and the user's account. It will post to their account denoting, "Auto Payment". If the credit card declines, it will automatically deactivate the card and Auto Pay, and email you and the user.