Entries are nearly automatic, using information already gathered from the checked in reservation. This will make entries a breeze.  A single entry can populate the student's logbook, and the instructors. 

Any user will be able to obtain a Logbook, even if  he or she is not associated with an Organization, or later deleted from one that originally populated data for them. 
New Entry: New Entry: Your drafts will appear here. After a checked in flight you can visit this page to find your flight information already prefilled like, aircraft, total flight time, and date.
Each user and instructor will be able to add their signature. Best practice use will be for the instructor to sign first that way they have the option to copy the entry to their logbook.
For the instructor to be able to copy the flight to their logbook they will need to be in their Logbook in New Entries, Drafts or  Search  > Type in the users name > Select Log > Check Copy this entry to my Logbook.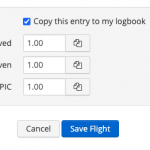 If the user is enrolled in Training, the entry as well as any comments added will show for that specific lesson.
In Setup:
Each user with a Logbook will have the option to let an Organization and private instructor: Add Only, Add & View, or Add, View & Edit.
The Logbook owner has the option to unselect Auto draft from the schedule.
The Logbook owner can grant access to private instructors outside of their Organization.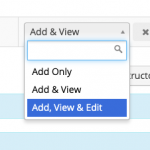 Endorsements: a list of current Endorsements are readily available for your use with easy 90 and 360 day expiration dates to apply. All users have the ability to print or email. Only Instructors can add Endorsements.
Export: Choosing an export will download a file which can be imported into the specified service provider's web site. Please refer to their documentation on how to use the downloaded file for importing. Select your name in the far right corner > Logbook > Reports > Export Wizard.
PIC is automatic IF the certificate type has been set.  So if you don't set Cert Type to STUDENT until they first solo, it won't automatically add PIC.