Pre/Post time for instruction on a new reservation
When Pre and Post time is added to a reservation the instructor's ground time will auto pre-fill during check-in.
Recurring Reservations 
If you're making a recurring reservation in a specific plane (Cessna172) you have the option to select Any (Cessna172). Instead of it making a backup reservation for you, if that plane is already booked, it will create a reservation in another 172 (if available).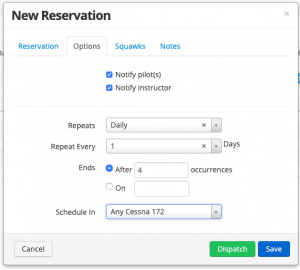 Maintenance Reservations 
By default, Admin can check in maintenance reservations. If you want instructors and/or basic users to be able to then select Yes for Maintenance in your Groups. Manage > Groups.
Once a maintenance reservation is checked in you will not be able to edit or delete it. ​The hours log is just for historical reasons of what changed when and by who.  So to make changes, just add a new entry.  If +1000 maintenance by mistake, then make a new entry -1000 maintenance to fix. You can make new entries in the Hours Log for the aircraft. Manage > Aircraft > Hours Log > +New Manual Entry. 
If you're checking in a maintenance reservation early change the return time to free up the schedule for other flights.
If a mistake was made to a non-maintenance flight, or if an invoice is generated out of order you will be able to edit the beginning and ending hobbs and tach. Click here to learn more.
Click here to learn about Reservation Types.