Create a new user with their email address. Manage > Users > + New User.  Keep an eye on your Pending List and an email notification for established Flight Circle users who have requested to be associated with your Organization. Users can only search for your Organization if you have "Allow Users to Self Register" set to YES in your User Settings.
In your General Settings you can use your "My Subscribe URL Link" for  your website. When a new user sets up an account with this link it will  AUTO associate the new user with your Organization. Manage > General Settings > My Subscribe URL. 
Basic Users can perform basic account management tasks like:
Update their Pilot information in the Pilot tab. An administrator must turn this feature on in the User Settings. 
Update their personal information. Click here for more information on enabling a sync.
View/manage/check-in a reservation on a the schedule if allowed by your Organization. Manage users permissions in your User Settings.
View their Account Ledger. Click here for more information on Ledgers for the Administrators view.
If you accept credit cards, your user can also pay on their own and set up Auto Pay. Click here to learn more about Auto Pay.
Files Tab: 
You can upload a users profile photo in the Files tab. Manage > Users > (Select user) > Files tab > + New Files > (Upload Photo) > Check box, "This is a user profile photo." You will then be able to see this profile photo while viewing their account. You will also be able to see it from the schedule, while hovering over their reservation.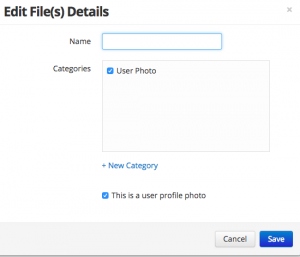 Set Categories for files. You can track them in the User Report when you select the Export option. Also, you can set these as Dispatch Checks in your Schedule Settings. When Dispatching, you will see FAIL if the file is not attached.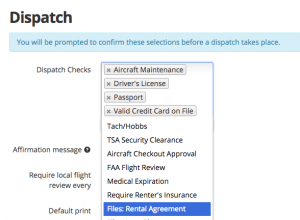 For TSA Security Clearance:
When choosing evidence shown that requires a government-issued ID, this must be included in the user's Personal page for drivers license or passport.  For drivers license number, a minimum of 5 characters is required to pass.
Revoking Access 
When you revoke access for a user you are removing the ability for them to see the schedule and book flights. They will still be able to see their ledger. Keep in mind, if they are in a group with recurring charges revoking access will NOT remove them from the recurring charge/group. You will need to manually remove them from the group. If they have a recurring charge singly attached in their ledger you will need to remove it there.