Primary Instructors
To assign a Primary Instructor to user, first go to their account:  Manage > Users > (click one) > Pilot (tab). In the 'Primary / Preferred Instructor(s)' section, click Add Primary Instructor.
Once the primary instructor has been assigned the instructor's name will appear first with a check mark when creating/editing a reservation for that user.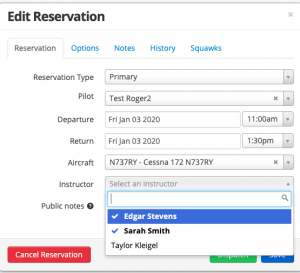 Note: Pilot Tab autosaves information inputted except for TSA Security Clearance. For TSA Security Clearance select Edit Security Clearance, add information, and select Verify and Save Clearance.
Aircraft Checkout: Add Aircraft Checkouts to see who has been checked out in aircrafts. You can also pair this with the Scheduling Restriction Aircraft Checkout. You will see the Add Aircraft Checkout. This list is populated from the Make and Model for each aircraft.
30 days before anything expires sends an email to the user and the admin letting them know.