Primary Instructors
To assign a Primary Instructor to user, first go to their account:  Manage > Users > (click one) > Pilot (tab). In the 'Primary / Preferred Instructor(s)' section, click Add Primary Instructor.
Once the primary instructor has been assigned the instructor's name will appear first with a check mark when creating/editing a reservation for that user.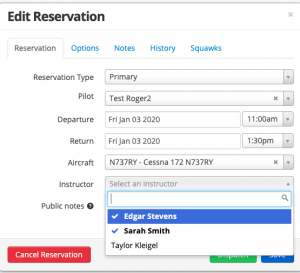 Note: Pilot Tab autosaves information inputted except for TSA Security Clearance. For TSA Security Clearance select Edit Security Clearance, add information, and select Verify and Save Clearance.